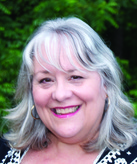 Julie King's motto is "If you can see the future you can change it!" She is a gifted psychic, who specializes in personal and spiritual direction, relationship issues, business, finance and practical solutions. As a professional intuitive for over 35 years, her primary divination tool is the Voyager Tarot though she draws from years of experience working with symbols, astrology, angels, color, spiritual psychotherapy, BioGenesis and other healing modalities. Julie is also a licensed minister, counselor, spiritual teacher, and business consultant

She has been featured both nationally and internationally on television and radio programs and in numerous magazines. Julie was a long-term host on the radio show In the Company of Angels, the former publisher of the Voyager Tarot Deck and Angel Blessings Cards and the North American director of Oreade Music. She presently resides in Brevard, North Carolina and is focused on the mystery unfolding.

Under the umbrella of her company, Rota Productions she also produces Body, Mind, and Spirit events and provides business/intuitive consulting for individuals and businesses. Julie has been an entrepreneur and adventurer most of her life with a personal interest in wellness and spirituality.
---
Intuitive & Psychic Consultations

Speaking and Teaching
Julie is available for classes, intuitive coaching and public speaking. She is well versed in all aspects of symbology and tarot and is a certified Voyager Tarot Teacher and Consultant. Angels, spiritual psychotherapy, healing, and subtle energies are subjects very dear to her heart. Developing one's spiritual and psychic knowledge is the basis for many of her classes.

She has been a student of the White Lodge in England since 1978 and has completed the coursework developed by Ronald Beesley including the first international teacher training course. Julie has studied with many gifted teachers in her quest throughout her life and maintains an open and inquisitive mind and heart.
Personal Ceremonies
As a licensed minister with the Church of the Light Brigade, Julie is able to perform individualized services such as marriages, commitment ceremonies, baptisms, and funerals. She embraces diversity and believes that all paths lead to Source.